The Ultimate Guide To Subscription Staffing
Calculate How Much You Can Save With Subscription Recruiting. 

 
Case Studies
We are savings our clients on average $6,383 per placement compared to traditional recruitment models. We want to share real life examples of savings we provided for our clients. We believe that numbers always speak louder than words.
Dennis Harms (Sandberg Phoenix) talks about The Staff Pad
Client Testimonial – Neil Faux, Managing Director, BRG
E-book
10 REASONS
Companies Struggle to Find Top Talent
+10 Solutions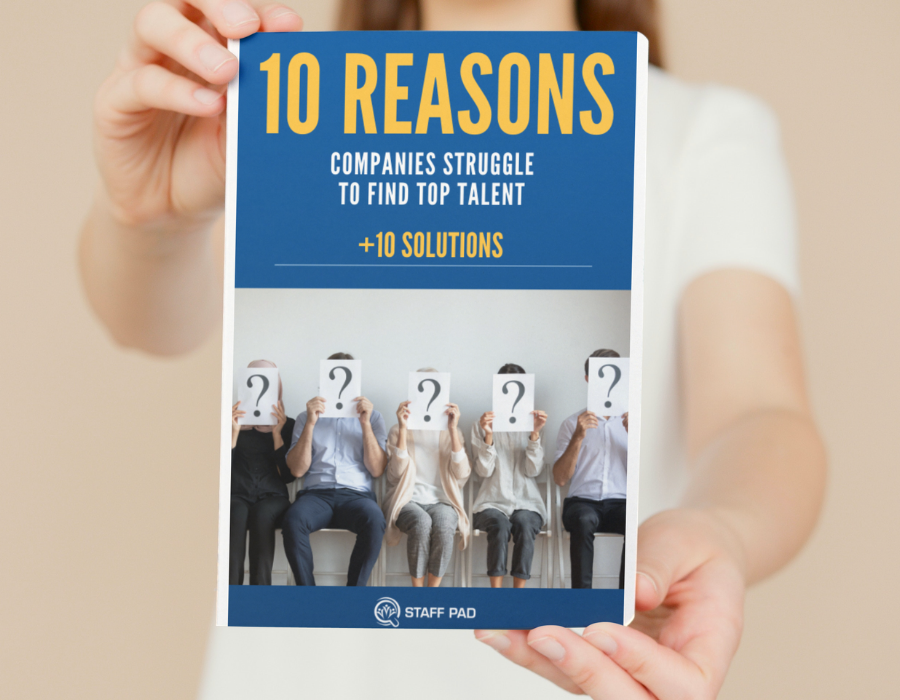 I just wanted to take a few moments to express sincere gratitude to Jessica and Staffpad for providing an exciting opportunity with a firm that I was just recently placed in and have started with. So far in my first week I have felt that this team is quite tight knit and collegial. I am quite happy that I will have such a warm environment to continue to grow my career as an attorney and appreciate being placed into a great firm. I'd recommend their services to those in need of a change in their professional career.
Scott Hernandez, Attorney
Our organization was hit hard by the pandemic. Using recruiters who charge 20% of salary was out of the question for our cash-strapped business. When The Staff Pad approached us with their monthly subscription hiring method, I thought it too good to be true. But here we are, 5 months in and so grateful for the talent they have brought through our doors!
Sammy Winchell, Creative Director
Williams-Stamble LLC
"Staff Pad did a fantastic job for us. We were very impressed with the quality and timeliness of each candidate that was sent our way."
Joe Caldwell, Chief Business Officer
Western Healthcare
Jessica and Hanna became an extension of our company! Hiring them to handle all our HR needs from job descriptions, to onboarding left us with the time we needed to complete new product launches. We are so grateful for their services and recommend them to anyone looking to outsource talent and HR needs.
Michael J. Carter, COO
Automotive Supplies Corp.
Hiring The Staff Pad to handle all our hiring needs was the best decision we could have made for our fast-growing tech business. We need a new sales person starting at least once a month, and The Staff Pad handled that request with ease!
Jessica J. Aumiller, Sales Director
Revel POS Operations
What is the biggest benefits of subscription recruiting?
What do you think is the benefits of subscription recruiting.
Industries with work with. 
Let's talk about which industries and companies can benefit the most from subscription recruiting. 
Why should your company try subscription recruiting?
In this episode Corey talks about benefits of tring sunscription recruiting. 
Recruiting
Blog
Best source for recruitment tips and industry news
2022 Year in Review... 2022 brought with it much excitement and gratitude here at The Staff Pad. We are extremely grateful to our clients with whom we have formed collaborative and service-oriented...
The growth outlook of the manufacturing industry looks promising, but new hiring challenges come with the evolving market. With the rise of advanced technologies used in manufacturing processes,...
Whether you are looking for lead generation, inside sales, outside sales, customer service, customer success, account management, recruiting, or leadership, finding the right talent is critical to...
Recruiting great talent is never easy. It requires filtering through hundreds of resumes, countless conversations, and interviews with candidates, with no guarantee you will find the person you are...
Let's Chat!
We would be happy to answer your questions and learn more about your company's hiring needs, pain points, and the roles you're looking for.
If you are looking for a new opportunity please refer to our career portal.